Discover WoofConnect: Offering Free Dog Boarding in Lothian – A Homely Sanctuary for Your Canine Companion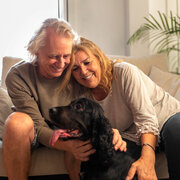 Are you in the process of organising your next journey or arranging a much-needed weekend escape? Perhaps venturing into the beautiful regions of East Lothian or West Lothian? Then you are undoubtedly familiar with the conundrum dog owners often face: what to do with your beloved canine companion? The notion of leaving your precious pet in a sterile, overpriced kennel can be disconcerting, can it not? When you're off to discover new locales, your pup deserves a place akin to home, where they are duly loved and taken care of. This is where WoofConnect comes into play, paving the way for your dog to find a loving temporary guardian right here in Lothian, who will treat them with all the affection they rightly deserve.
Your Gateway to Rewarding, Complimentary Dog Boarding in Lothian
WoofConnect serves as a connecting bridge, uniting dog owners in Lothian whose pets share similar breed traits, age, and vivacity. It's akin to introducing your dog to a friend who speaks the same canine language and shares the same vibrant spirit, fostering perfect harmony every time! It's the ideal alternative to traditional boarding kennels, offering a cage-free, cosy 'home from home' boarding service that feels quite at home for your pet.
Embrace the Revolution: Cage-Free, Cosy Dog Boarding – A Canine Paradise
Bid adieu to the traditional kennel system and welcome a nurturing, homelike environment in Lothian. WoofConnect pairs you with a local dog minder well-acquainted with your dog's breed and energy dynamics, offering a boarding service that feels like a lovely family looking after dogs with all the love and attention they're used to.