Introducing Montreal's Cutting-Edge Dog Boarding Solution: WoofConnect – A Home Away From Home for Your Cherished Canine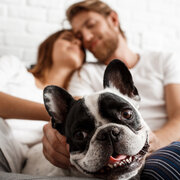 Escaping the Sterile Kennels: Enter a Sphere of Affectionate Care in Montreal
Does the specter of placing your furry friend in a detached, impersonal kennel trouble your vacation plans? Do you seek an environment for your pet that provides the same warmth and comfort as your home? Your wait is over, Montreal! WoofConnect is now in town, ready to redefine your experience with dog boarding in Montreal.
WoofConnect is more than just a dog boarding service; it's a community of dog lovers who have come together to revolutionize pet care. We link you with fellow dog owners in Montreal who are ready to engage in a mutual pet care agreement, an arrangement that benefits everyone involved – especially your beloved dogs.
Establishing Links Among Dog Owners in Montreal: Fostering Perfect Canine Partnerships
At WoofConnect, we place a great emphasis on creating the perfect match. Our Montreal dog boarding service goes beyond simply providing care; it aims to foster lasting friendships between dogs and their owners. We bring together dogs of the same or mixed breed and of a similar age, creating an environment where your pet can interact with like-minded canine companions.
Dog boarding at WoofConnect isn't just about providing temporary accommodation; it's about creating a nurturing environment that mirrors the safety and love of your home. So, Montreal, it's time to bid farewell to the impersonal world of traditional kennels and usher in WoofConnect's innovative approach to dog boarding.
WoofConnect: Cost-Effective and Affectionate Dog Boarding in Montreal
Traditional kennels in Montreal typically charge between $35 to $55 per day for dog boarding. A week-long stay can quickly add up, with costs potentially reaching between $245 to $385. Now, envision an alternative where your dog receives unparalleled care in a warm, home-like environment, entirely free of cost. That's the world WoofConnect invites you to!
We offer Montreal's dog owners an affordable yet enriching option to expensive kennels. Our reciprocal pet care arrangement allows you to ensure that your dog enjoys top-tier care without breaking the bank. It's a winning proposition for both you and your canine companion.