Halifax's Superior Dog Boarding: Creating a Cozy Corner for Your Canine Companions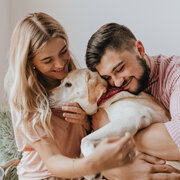 Embracing Personalized Dog Boarding in Halifax: Trading Impersonal Kennels for a Home-like Hug
Vacation time often presents a common puzzle for dog owners: where to leave your beloved fur baby? The thought of abandoning your cherished canine friend in an impersonal kennel in Halifax might stir unease. What you yearn for is a safe, warm haven for your pet that emulates the love and care of home. Your prayers have been answered, and it's called WoofConnect! We are here to make the connection, linking you with a compassionate dog enthusiast in Halifax, someone who not only shares their home with a dog of the same breed and similar age but also values the same standards of care. It's a reciprocal relationship, caring for each other's furry friends during holiday time. This formula works marvelously! It's not uncommon for dog owners to arrange additional get-togethers and day outings. When you pair dogs of the same breed and energy, it results in a harmonious union! So, if you're in Halifax, WoofConnect is your trusted ally for dog boarding.
Dog Owners Unite in Halifax: A Pet-friendly Playground for Perfect Pairings
Creating the Perfect Partnership: Dogs of the Same Breed, Crossbreed, and Age
At WoofConnect, we respect the importance of a compatible match. Hence, we connect dog owners in Halifax who have dogs of the same breed or crossbreed and a similar age. It's akin to finding a kindred spirit for your canine companion who shares their energy and "language." Trust us, that's a sure-fire recipe for success! With a sitter who understands their breed and energy, your dog will feel at home, receiving the affection and care they deserve. It's time to say farewell to conventional kennels and welcome our nurturing, home-like boarding solution.
Kindly Boarding in a Homey Setting: Your Dog's Comfort Zone Away from Home
The WoofConnect Difference: A Kennel-free Experience
Imagine a boarding experience devoid of kennels. Instead, your furry friend relishes a homey environment with a dedicated sitter from your local community. Our sitters, knowledgeable about various dog breeds, understand their distinct needs. Your dog will be under the nurturing wing of someone who genuinely cares, ensuring they enjoy a comfortable and joyful stay. At WoofConnect, we believe every dog deserves a home away from home, and we strive to make that dream a reality.