Fredericton's Premiere Dog Boarding: A Heartwarming Haven for Your Furry Family Members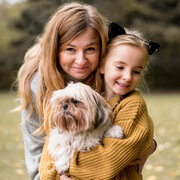 Introducing Personalized Dog Boarding in Fredericton: A Loving Embrace Over Impersonal Kennels
Do you ever grapple with the nagging question of where to leave your precious pup when a vacation calls? It's a familiar challenge for many dog parents. The thought of placing your beloved four-legged buddy in a sterile kennel in Fredericton can unsettle the heart. You crave an environment for your pet that mirrors the comfort and safety of home, one that showers them with the same kind of love and care they're used to. Well, the answer to your worries has a name, and that's WoofConnect! We're here to bridge that gap, introducing you to an empathetic dog lover in Fredericton, who not only shares the home with a pooch of the same breed and similar age but also cherishes the same level of care. It's a reciprocal relationship, taking care of each other's fur babies during holiday seasons. What we've found is that this arrangement works wonders! Dog owners frequently end up organizing extra playdates and day outings. When you pair dogs of the same breed and energy, it's nothing short of a magical match! So, if you're in Fredericton, WoofConnect is your trusted solution for dog boarding.
Uniting Dog Parents in Fredericton: A Perfect Playground for Pets
Finding the Perfect Fit: Canine Companions of the Same Breed, Crossbreed, and Age
At WoofConnect, we appreciate the essence of a compatible match. This understanding leads us to pair dog parents in Fredericton with dogs of the same breed or crossbreed and similar age. It's like discovering a playmate for your furry friend who shares their playful enthusiasm and "speaks" their language. And believe us, that's a recipe for success! Your dog, when boarded with a sitter who understands their breed and energy, will feel at home, basking in the love and attention they deserve. So, bid adieu to traditional kennels and welcome our cozy, home-like boarding solution.
Caring Boarding in a Cozy Environment: Your Dog's Comforting Abode Away from Home
Experience the WoofConnect Difference: A World Beyond Kennels
Imagine a boarding experience sans kennels. Your furry companion gets to relish a homely environment under the loving supervision of a local dog enthusiast. Our sitters, well-versed with various dog breeds, understand their unique needs. Your dog will be in the warm embrace of someone who genuinely cares, ensuring they enjoy a comforting and pleasant stay. At WoofConnect, we uphold the belief that every dog deserves a home away from home, and we endeavor to turn that into reality.